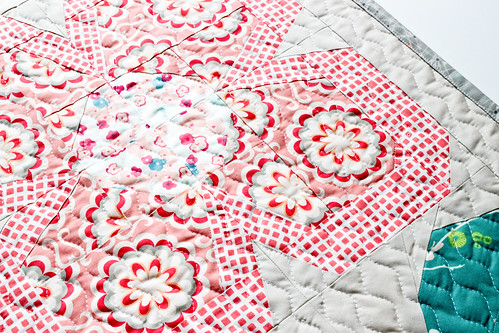 Happy Thursday! Another week, another mini quilt! We're down to the last two! Today's mini quilt was made for my friend
Deedrie
!
The Swedish Blooms Quilt in Ayumi's book,
Patchwork, Please
! is one of my favorite patterns to pop up in the last year or so. It is sweet, and has such a Scandinavian modern feel to me. I had been dreaming of stitching one up in
Nordika
, but I never found the time. So, when it came time to make
Deedrie
's mini quilt, I decided to finally try one of these blocks! It had been a little while since I had done any paper piecing, so it was lots of fun to play with that again!
I choose soft corals, pink, neutrals and a pop of teal for this quilt. It was a nice departure from bold and bright, and I think it compliments the block well. I used the
serpentine stitch
for quilting, and used
Aurifil
50wt thread to match.
All the fabrics used are from
Art Gallery Fabrics
. I used a print from
Rapture
by Pat Bravo for the backing. The background is Sandstone
Pure Element
.
For the binding I went with a fun print from
Chromatics
by AGF In-House. I love using linear prints for binding! As always, I attached my binding by machine. You can find a tutorial for the method I use
here
. It's easy and quick!
Happy Sewing!