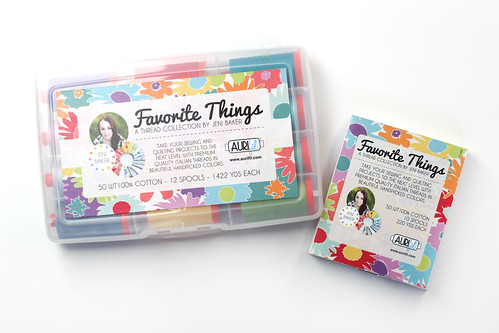 Happy Wednesday! Things have been a little quiet over here as I continue to make preparations for International Quilt Market! Since Ohio is on the way to Pittsburgh, I'm leaving early to spend a few days with my family. So I am trying to get as much done before I leave as possible!
I had to pop into today and share a very exciting project with you! I am happy to announce that I have a thread collection with
Aurifil Thread
coming out soon! I love using Aurifil in my projects, so this was a dream collaboration!
The collection is called Favorite Things, and it features some of my favorite colors from all of my fabric collections with
Art Gallery Fabrics
! I wanted it to be really versatile, and able to stand on it's own beyond my fabrics. Also, I love rainbows!
The threads are 50wt cotton, which is my favorite for piecing and quilting. You'll find twelve 1422yd spools in the large box, and ten 220yd spools in the small box.
I had lots of fun taking photos of the threads with my collections and some of my favorite notions! Zippers are all from
Zipit
, and pom-pom trims are all from
Jaceycraft
!
Aurifil Threads with
Color Me Retro
.
Aurifil Threads with
Nordika
.
Aurifil Threads with
Dreamin' Vintage
.
Aurifil Threads with
Geometric Bliss
.
As you can see, the threads really do match all my collections! The two grays are my very favorite gray threads, and while they match
Nordika
perfectly, they really blend well with everything!
Favorite Things will debut at Quilt Market next week! I will let you know when it will be available to buy.
Happy Sewing!