Happy Thursday! Today I have a quilt finish to share with you! This simple quilt came together this month just in time for my friend Lei's birthday!
Lei had mentioned earlier in the summer that she liked the indigo fabric I had dyed. When my parents came to visit at the end of July, I was able to to another batch of indigo to dye fabrics for her quilt and a backing for my one-day indigo quilt.
I use this kit when I dye. It's inexpensive and easy to use. For more information on indigo dyeing, check out my Indigo Dyeing Tutorial.
I had my Mom snap a few photos as I was dyeing, they turned out pretty cool!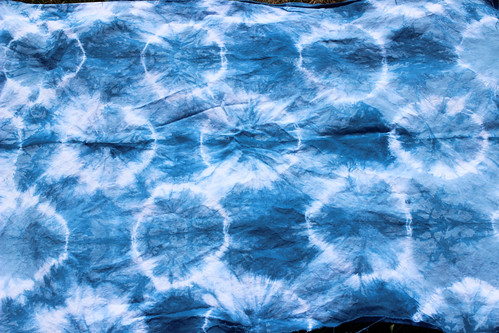 A few of my favorite pieces from this batch!
I didn't want to chop up the prints too much, so I went with simple large patchwork scale to make this throw sized quilt. It adds some extra interest, but let's the fabric shine.
I used four separately dyed pieces for the backing. I couldn't imagine anything else for the backing, and this makes it a double-sided quilt.
For the quilting I used my go to white #2024
Aurifil
thread for the piecing and quilting. I kept it simple with the quilting. I shadow quilted on either side of each seam, then added an additional horizontal and vertical line through each block as well as two diagonal lines. I bound it up with a Swiss dot that I indigo dyed last summer.
One of my crafty goals this year was to give more handmade gifts. I'm happy I can add this quilt to the list! :)