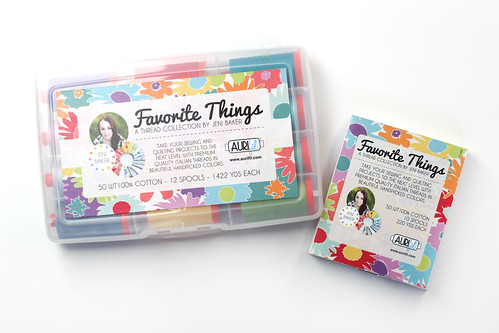 Happy Thursday! Today I have a few projects to show you that I made this past Spring to feature my
Aurifil Favorite Things Thread Collection
. I found the photos hiding on my desktop, and realized I had never posted about these projects!
First up is a mini quilt! I love to make mini quilts, and was in the mood to play with really simple log cabins. This came together in an afternoon! I used
Nordika
for this mini, and I love the play between all the different prints.
For the quilting I used a triple zig-zag stitch (with the stitch length and width turned up), and the teal thread from the collection. It's super quick using this stitch for quilting. The thread looks so shiny with the rich colors of Nordika!
To finish this mini quilt up, I used a teal
Squared Element
. They're perfect for bindings!
Next up, a simple patchwork pillow! I never tire of plain old patchwork, and it really suits
Dreamin' Vintage
. Adding quilting to a pillow gives it so much comfort in my opinion!
I quilted this pillow using the light blue thread from the collection with a simple loopy meander.
The pillow is finished off with a zippered back, which is my preferred way to finish a pillow!
Finally, I wanted to come up with a project that not only used all 12 threads from the thread collection, but also used fabrics from
all four of my fabric collections
. Enter this funky zipper pouch!
I knew I wanted to use strips of my prints, but I added the solid portion so that you could better see the different thread colors. I was surprised by how well the prints from my different collections play together! Maybe a quilt with all of them is in order!
I quilted the back of this pouch with a
serpentine stitch
using the dark purple thread in the collection.
You can find both the small and large thread boxes in my
shop
!